Activate logging for Kleopatra
under construction
Result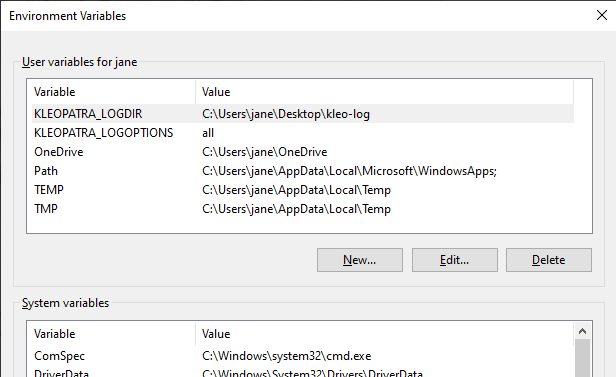 Instructions
1. Create a folder with the name "kleo-log" on the Desktop.
2. Create new environment variables:
Open the settings
Enter "environment" in the search bar and click on the suggestion "Edit environment variables for your account".






In the section "User variables for jane" (replace jane by your account name) click on "New..."






In the next window enter the following:

Variable name: KLEOPATRA_LOGDIR
Variable value: C:\Users\user_name\Desktop\kleo-log (replace "user_name" with your own account name)





And click on "OK"




Again click on "New..." to create the next variable
Enter the following:

Variable name: KLEOPATRA_LOGOPTIONS
Variable value: all

Confirm with "OK"
In the window "Environment Variables" click on "OK".






3. Restart Kleopatra to start the logging
4. Remove the environment variables after solving a problem
Navigate to the environment variables
Select the variable "KLEOPATRA_LOGOPTIONS"
Click on "Delete"
Repeat the previous steps to delete the other variable "KLEOPATRA_LOGDIR"